Do you want a better internet?  One that balances the needs of creators and consumers?  A more democratic internet?  I do.  That's why I'm investing in a music coop: Resonate.
Stream to Own
I've been a member-owner of Resonate for a while, and listen every day.  It provides an eclectic mix similar to a high quality college radio station.  At first glance Resonate is a streaming service like Soundcloud or Spotify.  But dig deeper and the you'll find major differences:
You only pay for what you listen to.
Each listen debits your balance a small amount.
On the 9th listen you own the track. 
This tiered pricing model incentivizes discovery.  Owning actual tracks helps fans develop deeper ties to the music they love.
And I own more than just tracks.  My member share means that I own a portion of Resonate, I can vote on how the business is operated and at the end of the year I can share in the profits.
Over the past year Resonate has added more content, more features, and most importably a sustainable organization where fans, musicians, employees and labels can work together towards common goals.   This is the kind of "cooperative internet" that I always imagined would emerge back in the pre-web era.
"Purpose above Profits"
"Purpose above Profits" was the slogan at REI as I shopped for the holidays.  It's a reminder that the REI is a Member Cooperative.  With my $20 lifetime membership I get dividends based on my purchases while supporting outdoor and environmental causes.  In 2016 REI gave back 70% of profits.
This is but one example of how Coops can offer sustainable services for the communities they serve.  Growing up I had electric power from an Coop.  When I lived in Switzerland there's a huge retail chain literally named "Coop".  I currently use and support my Credit Union.
Overall Coop businesses are more sustainable, and are oriented to the long term interests of their member-owners.
But the growth of the Internet and the Web bypassed the cooperative model.  This despite the fact that open source and much of the shared internet infrastructure are structured like coops.  It wasn't until 2014 that the concept of Platform Cooperative was coined.   The rise of pseudo-"sharing" platforms like Uber and AirBnB and the rise of decentralized technologies like blockchains were two key reasons that many now embrace the concept.
Early Stage Capital
But a problem emerges, how do you bootstrap a Cooperative where there are significant barriers to entry?  That's where Supporter Shares come in.  Anyone can invest in these shares.  Each year the co-op sets aside 10% of profits and issues dividends to Supporter Share owners.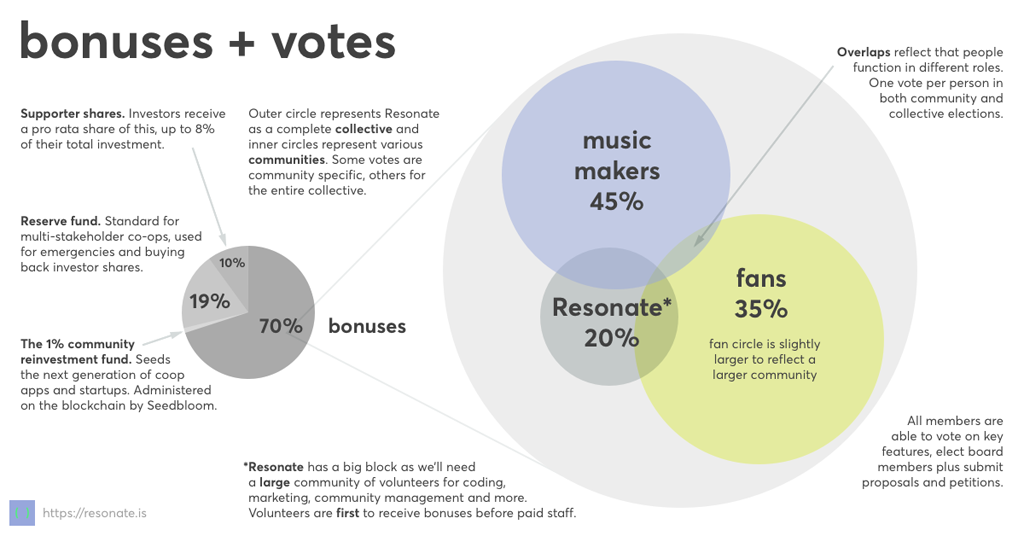 But remember that Supporter Shares don't get you extra voting power.  A cooperative is still one-person, one-vote.  The upside is that there are no leveraged buyouts, no dual share structures or non-voting shares.
The Future Internet
The Internet I want is a democratic one where creators, consumers, supporters and employees can work together towards common, sustainable goals.  By using and investing in Resonate I hope to advance those goals.  Liz Pelly captured the sentiment in "Protest Platforms" that "Resonate is particularly interesting for the way it advocates for broad decentralization of data, power, and money in music".
The Resonate Project Map details where the project is going and the plan to achieve it.  I'll admit that the content catalog is small, (but growing!) and the technology is very beta (but improving!).  I still use and enjoy it every day.
I hope that you'll consider joining the coop as a member owner and see for yourself.  If you want to accelerate this type of work consider purchasing Supporter Shares.
And finally, I hope that you'll consider supporting a new generation of online platforms that include the same kind of values that Resonate promotes.  All while listening to and supporting the artists we love.